As part of the Platinum Jubilee weekend celebrations in West Hill, the Pre-School held a scarecrow competition on the theme of "Royalty". The Parish Council provided prizes for 1st, 2nd and 3rd place - Amazon vouchers to the value of £50, £25 and £10. Indeed the entries were so good that judges also awarded two "highly commended" certificates as well. No prize for these, just bragging rights. The judging panel consisted of Cllr Della Cannings QPM, Parish Council Chairman, ably assisted by Cllr Margaret Piper, Vice Chairman, and Cllr Alison Carr. The judges agreed they had a difficult task because of the high standard of all the scarecrows. Chairman Della Cannings said "Congratulations to the Pre-School on arranging the scarecrow competition … it's certainly added to the Jubilee  atmosphere in the village. It is lovely to see the entries and the effort put into the scarecrows by the entrants … they should all be congratulated."
So without further ado, we present the winners, runners up and highly commended entries:
In 1st place, we have Elliott and Ollie Goodfellow's entry of the Queen being guarded on her throne, with Elliott and Ollie helping too. The Queen is wearing a nice blue dress and a posh tiara and looks very relaxed.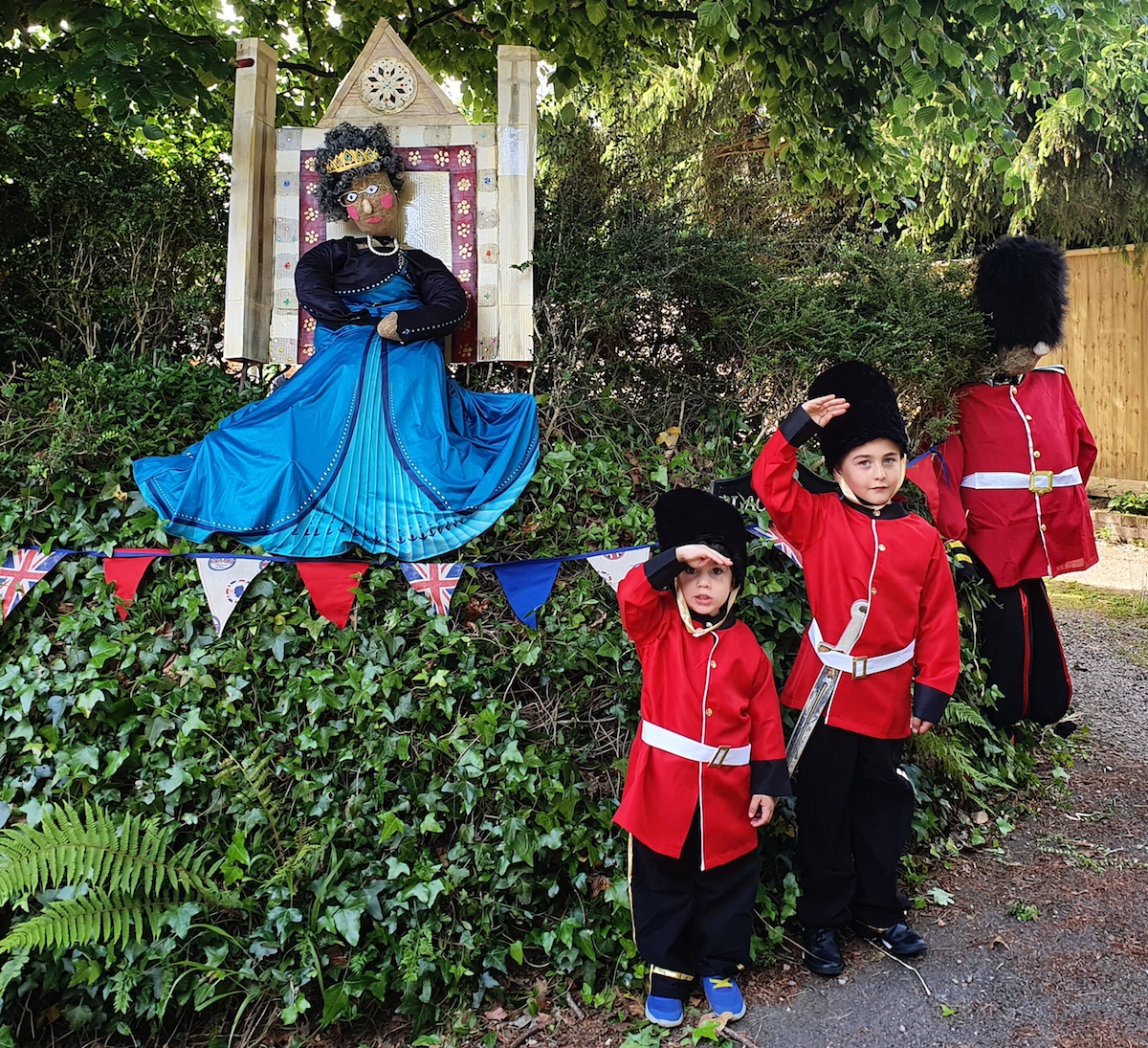 In 2nd place we have Elena and Matilda Carpenter's entry - a satirical scene based on a recent newspaper story. Love that the corgis are wearing Union Jack collars.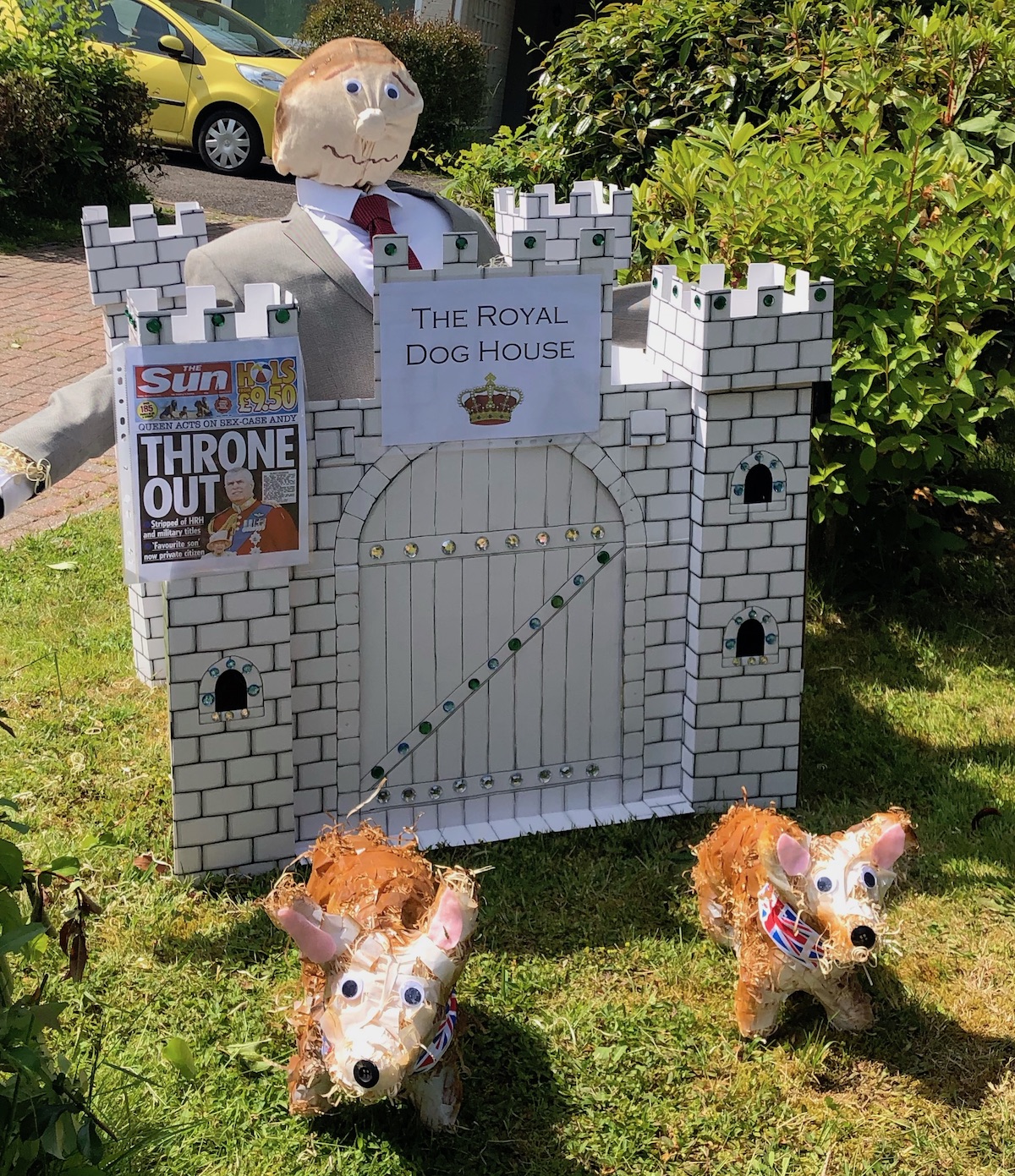 In 3rd place we have Helena Wilson's entry of the Queen relaxing in a deckchair. She is wearing full regalia and looks very happy to be putting her feet up - clearly she had a busy day.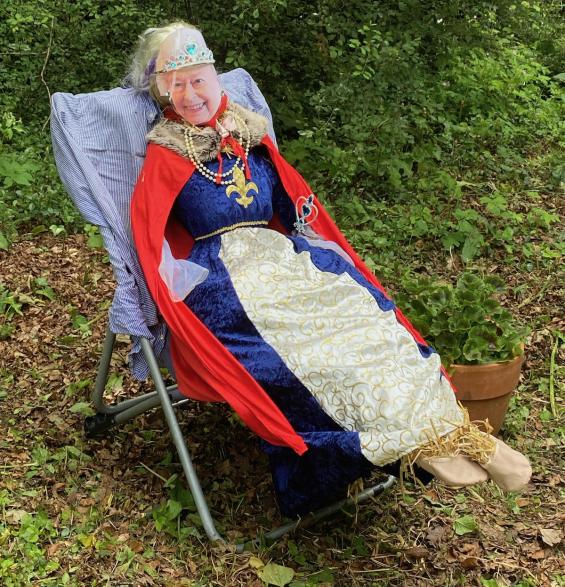 Two entries were highly commended by the judges. One was by Sophie, Martin & Otto Priddle and showed a headscarf-clad Queen on her horse jumping over a wall,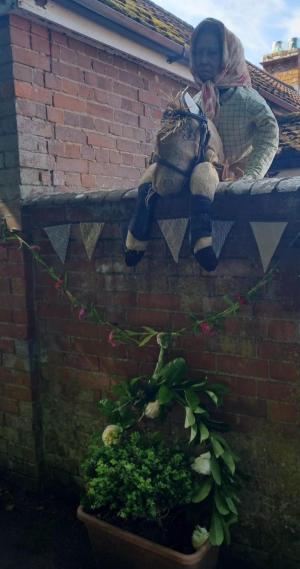 and the other was by Louise, Leo & Olivia Down and showed King Henry VIII, complete with a printed "scroll" for each of his six wives describing their respective fates and a model of Henry's warship the Mary Rose.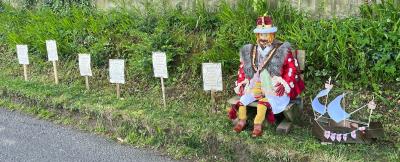 Lastly we feature photos of the winner and 2nd place prizes being awarded by Vice Chairman Cllr Margaret Piper. Also pictured is Felicity Carpenter, Pre-School Chairman and organiser of the competition.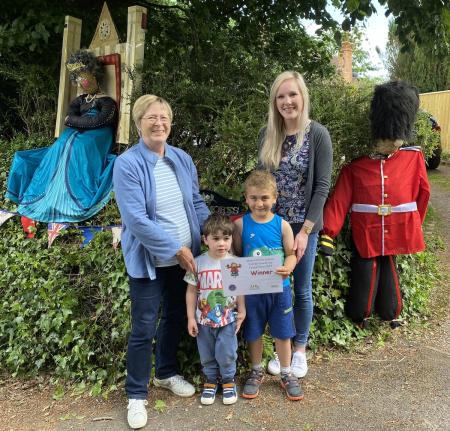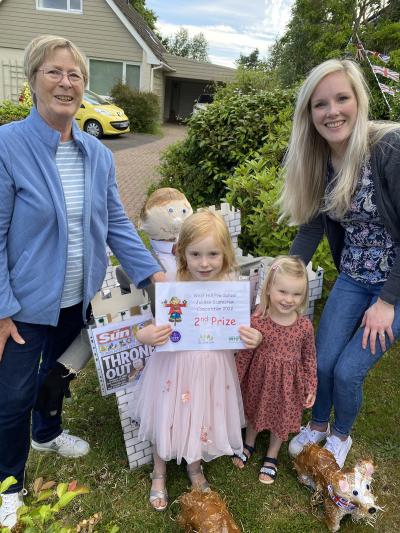 The competition was a lot of fun and we hope it will become a regular fixture in the West Hill calendar, Jubilee or not. Thanks to Felicity and West Hill Pre-School for being such good sports.