The current East Devon Local Pan 2013-2031 was adopted in January 2016.
East Devon District Council (EDDC) is preparing a new Local Plan that is expected to ultimately replace the existing Local Plan as well as replacing the Villages Plan and potentially, at a future point, the Cranbrook Plan. The new Local Plan is expected to cover the period to 2040. It is planned to produce a Draft Local Plan by the end of 2021.
The decisions and planning policies in the Local Plan will affect West Hill in the years to come.
The new Local Plan will outline how the district addresses such issues as
how many new homes should be built and where,
how many new jobs should be created
where employment sites should be built
and how to deal with the climate emergency.
The Parish Council is committed to keeping West Hill residents informed as the review progresses. We will do our best to ensure that West Hill residents' views are heard.
This webpage will be updated as information becomes available.
The emerging Local Plan is discussed in the monthly EDDC Strategic Planning Committee. Agendas, Minutes and Reports can be found at: 
October 2021 The meeting on 5th October discussed the principles of settlement boundaries (BUAB), the importance of health considerations in preparation of the Local Plan, and potential policy approaches for the provision of sports pitches
September 2021 The meeting on 7th September included a proposal to produce a working draft of the Local Plan for December 2021. This would have an overview of proposed plan content and strategy and policy choices. A fuller draft version of the Local Plan will be prepared by March 2022 for public consultation. 
Other issues discussed were the relationship between the Local Plan and Neighbourhood Plans, the strategic approach to town centres, biodiversity policies and landscape protection.
July 2021 The meeting on 20th July considered proposals for the Role and Function of Settlements. For more information:
The Parish Council has been invited to comment on the accuracy of the report in respect of the community services and facilities in West Hill. The following report has been submitted:
March 2021 - Housing and Economic Land Availability Assessment (HELAA). A Call for sites ran from January to March 2021, providing the opportunity for individuals and organisations to suggest to EDDC sites that they think have the potential to be developed for housing, economic or other uses.
An interactive map of the sites put forward in East Devon can be seen here.
The  map below shows the West Hill sites put forward for assessment.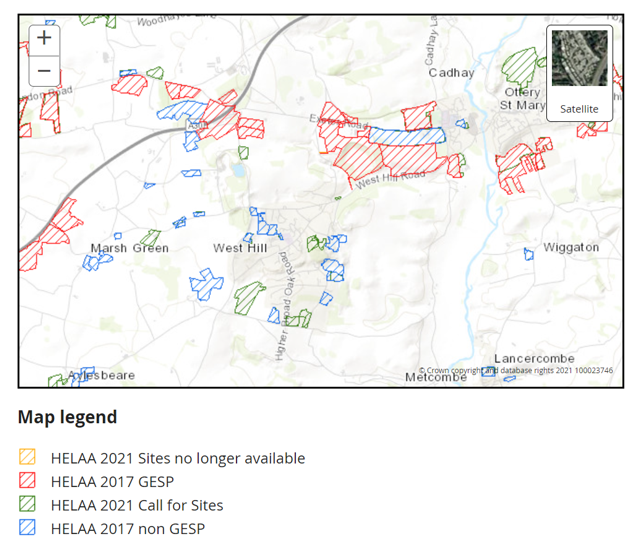 The development potential of sites put forward during the Call for Sites will be assessed by EDDC Planning Officers and a Panel of representatives from the housing and economic development industries. The conclusions will be published in a "Housing and Economic Land Availability Assessment (HELAA) in due course.
The results of the HELAA will inform the sites chosen for future development in the new East Devon Local Plan.
March 2021 The WHPC Response to the East Devon Local Plan Issues and Options Consultation was agreed at the Council meeting on 2nd March 2021. Please click here for details
January 2021 Work on the new Local Plan production started with consultation on an Issues and Options document that summarises some key issues facing East Devon and some options for how they might be addressed. The consultation report can be seen at: Issues and Options Report Jan 2021